Lateral Arm Awnings (Carlton)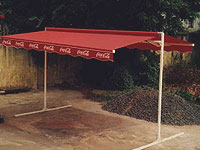 Lateral Arm Awnings (Carlton)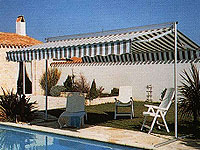 Lateral Arm Awnings (Carlton)
Lateral Arm Awnings (Carlton)
Folding arm awning mounted on two square columns. Two pairs of arms are fitted on both sides of roller tube with fabric stretched from roller tubes to fall bars. It has single gear box, which on operation retracts or opens both pairs of arms simultaneously. Single length of fabric used between both fall bars to avoid water seepage.
Being a self supporting structure, they are ideal for gardens, pool – sides, bars, stalls and restaurants. Can be also grouted.
Width 4800mm ( 15'9 " ) ( Maximum).
Sloping Projection 15000mm (4' 11 " ) on each side.
Column Height 2375mm ( 7' 10" ) from ground.
Fabric
Acrylic or PVC. The acrylic fabric is Pearlguard treated for stain & dust repellency. The fabric is UV resistant and colour fast.
Options
Electric motor ( with or without manual override ) with option of remote control.
Automatic devices : Sun and Wind control systems.